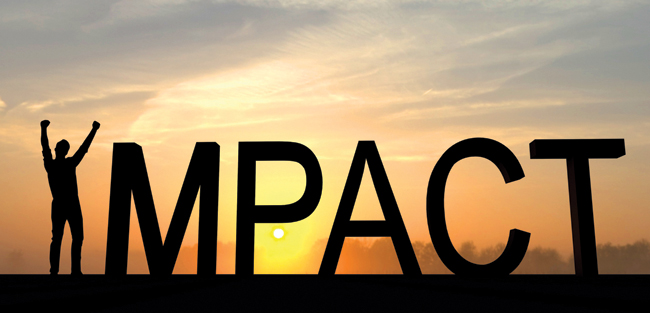 Arthur Carmazi, an Italian-American author and founder of the Directive Communication Methodology, said "Every action we take impacts the lives of others around us. The question is- are you aware of your impact?"
At 3 Peepul, we continually ask ourselves this question, and this in turn guides our decision-making process.
Have you ever stopped to ask yourself, "What impact am I making? Is it positive or negative impact – on my family, friends and loved ones? On my colleagues and peers, or at my workplace? On the larger community?"
At 3 Peepul, we ask ourselves yet another question – "What is the long-term impact that we can and want to make? What is the legacy we aim to build? What is the legacy that we want to leave behind?" These may sound like profound, even philosophical questions but at the core, its very simple.
What we ask ourselves is – How would we like to be remembered? How can we make our lives and our work have value and meaning? How can we effect change? What's our contribution to the community?
With reflection and conversations, we three co-founders have discovered that we feel strongly about the need to build and leave behind a legacy that we're proud of, that has a positive impact on the community. The stories we've chosen to tell, support and produce are a direct reflection of this thought process. The collaborators we've aligned with are storytellers and filmmakers with a heart, who believe strongly in our shared vision, and who want to make an impact through their films.
Vishwamitri Villas
Our very first short film "Vishwamitri Villas", an experimental, improvised and path-breaking film as it was shot entirely on Zoom, has a lofty objective – to create inclusive spaces for the deaf within the community. How are we achieving this?
Our film revolves around a day in the lives of domestic staff, during the pandemic lockdown, and delves into their struggles, relationships with each other, with their employers and children, while living in an apartment
complex somewhere in India. The film has deaf and hearing actors, where Sign is a language along with other spoken languages (Hindi, Gujarati and English). The film is subtitled in English and Hindi. The film is not about the deaf, though some of the cast is deaf. It's not about sign language, though sign is one of the languages used among others.
This is how we have chosen to normalize sign as a language, and create an inclusive space for deaf within the community. When watching the film, we hope the audience will watch the film with a deeper appreciation and curiosity to learn sign to be able to better communicate with deaf people.
Currently, we're holding special screenings of "Vishwamitri Villas" at the schools which our young cast belong to in Vadodara. After screening the film, we have a Q-A interaction between the cast members and students of the school. With sign interpreters and translators to aid communication, our hope is for these interactions aid in normalizing sign, in turn creating sensitization for the deaf, and hopefully some bonds between these students.
As we continue on this journey with "Vishwamitri Villas", we hope to raise awareness and funds to support the educational initiatives of one of our collaborators – Akshar Trust (Centre for children with deafness) in Vadodara.
Concept & Directed by: Kristine Landon-Smith
Music by: Felix Cross
Edited by: Sabyasachi Bhattacharjee
Co-created & Enacted by: Students of Page to Stage & Akshar Trust (Centre for children with deafness)
Guest Appearance: Sudha Bhuchhar & Rina Fatania
A collaboration between: Akshar Trust (Centre for children with deafness), KLS & Associates, & Page to Stage
Produced by: 3 Peepul Productions
To watch the documentary "The Making of Vishwamitri Villas", which delves into the creative processes behind the short film, visit YouTube: https://youtu.be/zrF8mrT31MQ
Kundaalu
Our first feature film "Kundaalu", which is now ready for distribution and has been submitted at film festivals, aims to address the issues of patriarchy, widow remarriage and discrimination against people with disability when finding the perfect match for marriage.
Without revealing the story, our film is set in rural Gujarat and addresses a traditional notion that marriage is paramount to gaining respectability in society. Our protagonists are not like the heroes and heroines one sees in mainstream Indian cinema – as that's not true to life. Our protagonists are real, inspired by actual people and their traumas are genuine, drawn from real life incidents. The story revolves around their lives and struggles, as they eke out a living, unseen, unheard and discarded on the fringes of a rigid society, bound by its customs and traditions.
As we hope to bring our film to the screen and to audiences in India and world-wide, our endeavour is to tell this story of "Kundaalu" with heart, being honest and authentic to the region and reality.
Written & Directed by: Rohit Prajapati
Music by: Vipul Barot & Swayam Gadhavi
DOP & Edited by: Sabyasachi Bhattacharjee
Cast: Sonali Lele Desai, Vaibhav Biniwale, Happy Bhavsar Nayak, Swayam Gadhavi, Ruby Thakkar, Mir Hanif, Shilva Panchal, Yash Bhagwat, Dhruv Pandit & others
Produced by: 3 Peepul Productions in association with Geet Theatre
Sakshi short films
We are collaborating with a non-governmental organization (NGO)- Sakshi, to make 100 short films as part of their initiative – The Rakshin Project. Sakshi, a 30+ year old NGO founded in 1992, is a pioneer of the feminism and social justice movement, with its work leading to several gender-based laws, including POSH (Sexual Harassment of Women at the Workplace. Prevention, Prohibition and Redressal Act, 2013) and POCSO (Protection of Children against Sexual Offences Amendment Act, 2019).
Sakshi has asked us to make a series of short films, of which 2 are ready and 1 is in the pipeline. Each film is being released by Sakshi online, as part of their awareness and sensitization campaign through dialogue with the online community. Sakshi will also use the films as part of their training programs for The Rakshin Project, which is being conducted for college students across India.
With funds for these films raised by us at 3 Peepul, content given by Sakshi, and continued communication throughout the filmmaking process, these short films embody a deep sense of collaboration and alignment of the shared vision of our teams, to make a deeper impact on the community.
As women and mothers, we're very aware of and sensitive to the ugly reality of violence and abuse countless women and children face within their homes, families and communities. By collaborating with Sakshi in making hard-hitting short films that address a multitude of issues, we hope to lend our voices to the movement for creating a safe, inclusive and equitable society.
To watch our first short film "Be BeKhauf" for Sakshi, visit YouTube: https://youtu.be/y1oRxC1dUmo
The other short films will be released by Sakshi in the public domain, in the near future.
To conclude, painter Vivian Tana said, "Brace for impact and embrace the consequence"; and to quote the famous singer-musician Barry Manilo who said, "Everything you say and do is having an impact on others".
In the words of the well-known journalist and social-political analyst Gloria Steinem, "There's no greater gift than thinking that you had some impact on the world, for the better."
At 3 Peepul, we'd like to brace for impact- one film at a time.