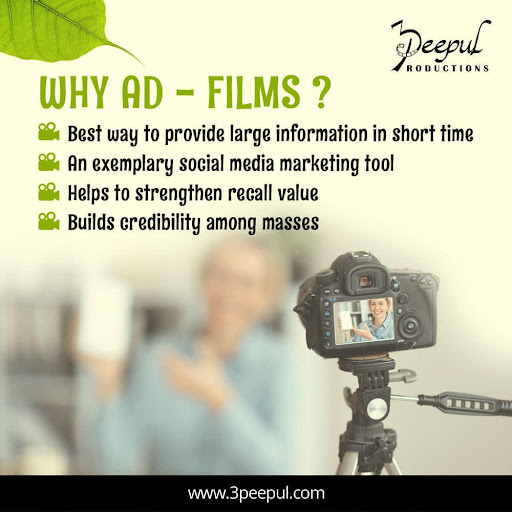 In today's day and age, people's attention span has decreased with the increase in access to information provided by the internet. So nowadays, video advertising is far more successful in capturing a consumer's attention than the static forms of before. As you know, when building a brand, awareness is key, as this leads to increased attention by word of mouth and attracts new customers to your business.
With platforms like Instagram and YouTube actively veering towards video content and ads, brands that create memorable ad films are likely to reach more new customers by showcasing and promoting them on these platforms. Ad films have become a mainstay of marketing strategies world over, with statistics showing that approximately 87% of marketeers use video in their promotional plans.
There are many benefits to creating an ad film for new clients to discover your brand. Here's some main points to ensure your ad film is a success. Focus on having a clear message, a relatable tonality and keeping viewer's interest engaged throughout.
Ad films are much more than mere commercials though. In an ad film, you have room as a brand to explore storytelling and art in this format. With the rise of OTT platforms, ad films serve as better alternatives than commercials, and a well made one can reach a large audience that wasn't possible before. The best part is that making an ad film doesn't have to be a super expensive affair- if you have a clear story that you want to communicate, it can easily be produced on a budget.
Recent ad films which have made a mark have gone beyond only showcasing the product. They have focused on a message through their story telling- be it about emotions, community spirit and harmony, or be it social issues and diverse human experiences. Some have created a string of ad films with the same characters in various situations, which in turn made their brand recall firmly entrenched in the audience's memory.
An important factor to keep in mind is your target audience. If your product is local or your target audience is located in one city or state, then a national ad film may not make sense for your brand. In this case, regional ad films can make all the difference as you focus to reach new audiences in your target location.
Hiring the 'right' agency or filmmaker to make the ad film is very important. Remember – hiring a big and expensive agency does not necessarily mean that your ad film will be the 'best'! Case in point are some known brands which engaged well established advertising agencies, with large budgets, but their ad films made a negative impact with the audience. Some have even had to withdraw their ad films and offer apologies for hurting people's sentiments. This reiterates the importance of sensitively portrayed storytelling, that is respectful of diversity and inclusivity, to create a positive impression of your brand.
What is the benefit of an ad film for your brand?
Recall value: Most people remember information if it is shared visually and if it is interesting to watch. If you create an ad film that resonates with your audience, then the likeliness of them recalling it and telling people about it is high.
Relay large amounts of information: With video, you can put across many more points in a short span of time than if you were doing it via a print ad or article. If you plan out the way to present crucial product information with visuals in your video, your work is done!
Improve your brand's SEO: SEO or 'Search Engine Optimization' is key in today's digital world. You want more people to visit your website, know, about your brand, and more new customers to find you; so SEO is key as it helps you land higher in the results when searching certain keywords.
At 3 Peepul, we take pride in our careful creation of ad films that are focused on driving results and making the desired impact for our clients. With interesting and varied content, professionally directed and executed films, catchy jingles and music, in multiple languages, we offer exceptional quality ad films to our clients. Our focus is for the ad films to drive virality for our customers, creating instant recall among viewers, generating new leads and a unique image for their brand.
To know more about 3 Peepul Productions, visit www.3peepul.com